The Artwork of Yozo Hamaguchi and Bio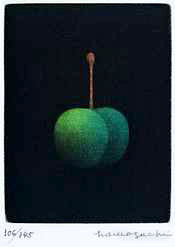 Artist: Yozo Hamaguchi

Personal Info:
Born in Wakayama, Japan, 1909
Hamaguchi died on December 25, 2000 in Tokyo, Japan
Education:
Hamaguchi's early studies in sculpture were at the Tokyo Ecole des Beaux Arts.
At age 21 he studied painting, sculpture and drawing at the Academie Grande Chaumière in Paris
Print Media:
Copperplate etchings, black and white and color mezzotints
Selected Collections:
* The Metropolitan Museum of Art, New York
* The Museum of Modern Art, New York
* Bibliothèque Nationale de Paris
* The Art Institute of Chicago
* The Fine Arts Museums of San Francisco
* The National Gallery of Art, Washington DC
* The British Museum, London
* The Wakayama Museum of Modern Art, Japan
* The Cleveland Museum of Art
* The Musée Hamaguchi Yozo
* The Yamasa Collection, Tokyo
* Yozo Hamaguchi: A brief biography
After studying to be an artist in Japan, Hamaguchi moved to Paris at age 21. There, he met many artists and writers who provided him with an exposure to modern western ideas about art and aesthetics. One of his friends, the poet e. e. cummings, introduced him to the mezzotint technique by presenting him with a set of tools. Although mezzotint had been in wide use in the 18th century, when it was used to reproduce images of paintings, the method had fallen into obscurity after the introduction of photography.

To honor his friend, Mr. Hamaguchi used the mezzotint medium to produce a series of colored prints entitled the "e.e.cummings Suite."
Working in Paris, Hamaguchi developed his imagery from direct observation. Among his main subjects were still life objects including fruit, bottles and insects. Hamaguchi also worked with ideas of illusion and reality, often incorporating images that balanced between reality and invisibility.
At the outbreak of World War II, Hamaguchi moved back to Japan, where he studied traditional Japanese painting. Returning to France in 1953, Hamaguchi began to win awards for his monochrome mezzotints and also began to create color mezzotints.
Hamaguchi is most famous for his exquisite blending of colors familiar from the French mezzotint tradition — yellow, blue, and red — into a wide range of subtle shades.
During the next thirty years, Hamaguchi received numerous prizes at international exhibitions in Europe, Japan, Brazil, and the United States as well as recognition through museum and gallery exhibitions. After living in San Francisco, he returned to Japan in 1996. There, before his death, Hamaguchi was honored by the establishment in Tokyo of a museum in his name, Musée Hamaguchi Yozo.
Hamaguchi died on Christmas Day, 2000 and was survived by his wife Keiko Minami, also an artist.
Yozo Hamaguchi the printmaker and master of the mezzotint
Hamaguchi is considered the father of the modern mezzotint technique. Mezzotint is an obscure printmaking process introduced in the 17th century. It is an intaglio method in which deep rich variations of tone can be produced without using line or dot techniques.
Mezzotint achieves tonality by roughening the plate with thousands of little dots made by a metal tool with small teeth. In printing the tiny pits in the plate hold the ink when the face of the plate is wiped clean. A high level of quality and richness in the print can be achieved. Hamaguchi brought a high level of technical skill to this laborious and difficult to master technique. Hamaguchi brought new attention to the mezzotint medium and inspired other artists to work in this medium.
Links:
http://www.artworksgallery.com/gallery/recommended/page1.html
Masters of the Mezzotint at the Worchester Art Museum
http://www.worcesterart.org/Information/PR/Past/8-17-04.html
Musée Yozo Hamaguchi
http://www.yamasa.com/english/musee/index.htm