Muhammad Ali Signs Monumental Fine Art Photograph For Pasadena Gallery
"It is not inconceivable that the fame of Muhammad Ali has reached more people than have been aware of any other man in history during one lifetime." – Hugh McIllvanney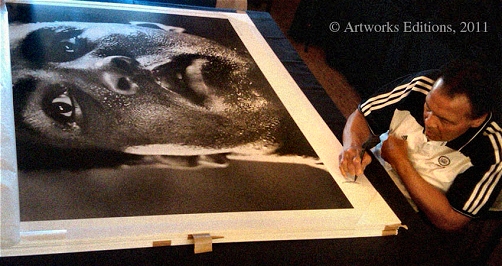 PASADENA, California (April 1, 2011) – Artworks Gallery of Pasadena is pleased to announce the release of a monumental limited edition photograph of Muhammad Ali entitled "1977."  The image is a rare close-up that captures the fighter's vitality and determination, taken by prize winning British Photographer Michael Brennan.  The picture was captured in Deer Lake, Pa while Ali was training for his amazing come from behind victory over Earnie Shavers at Madison Square Garden in September of 1977.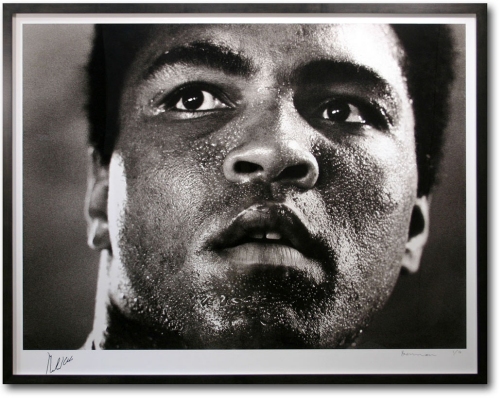 Michael Brennan
"1977″ Portrait of Muhammad Ali
Archival Fine Art Pigment Print
48 x 63 inches, edition of 20.
Signed by Muhammad Ali, signed by Michael Brennan.
Only twenty examples were printed for this special collector's edition.  The images were created using the revolutionary printing process 'True Black and White', taken directly from the photographer's negative.  Each archival print has been signed by both photographer Michael Brennan, and by Ali himself. The massive scale of the printed image brings viewers face to face with a man who was both a larger than life hero, and also a man of the people.  This limited edition is perhaps the most masterfully produced large-format photographic image ever done of the great Champion.
Ali, who was named by Sports Illustrated magazine in 1999 as the "Sportsman of the Century," defeated every top heavyweight in his era, which has been called the "Golden Age of Heavyweight Boxing." Ali is regarded as a leading American cultural figure, not just because of the grace and power he displayed in the boxing ring, but also because of the confidence, independence and candor displayed in public. "I know where I'm going and I know the truth," Ali once said, "and I don't have to be what you want me to be. I'm free to be what I want."  The "1977" portrait was taken at the pinnacle of the "Golden Age of Boxing".
The original image resulted from a unique intimacy between Michael Brennan, and Ali, who wanted to be helpful to the young photographer. Brennan recalls: "Ali used to joke that he gave me access I could never expect from Barbra Streisand or Frank Sinatra." As a result he was able to seize a rare opportunity while observing Ali in a training session:
"He (Ali) had been sparring and a television guy had been in the ring with him shooting film but for a few seconds he came into the corner of the ring where I was and I saw the expression on his face, I could see everything that lay behind it. In a hundredth of a second I shot the picture I had always dreamed of."
From the moment Brennan snapped the shutter, he knew he had something captured something transcendent. Ali himself, when he first viewed the image, commented "I can feel the texture of all the sweat and hard work. I can feel my life." Most other images of Ali capture either a more guarded expression or pull back to emphasize the champ's physicality. Only Michael Brennan's great photo caught the depth and determination that other fighters saw when they were face to face with Ali.
Observers have commented on the poignancy of the photo, in which the fighter's distant gaze seems to indicate that he is looking beyond the immediate moment. Just days after the original photo was taken Ali travelled into the "belly of the beast" – Madison Square Garden – where he confronted the fearsome puncher Earnie Shavers. For fourteen lackluster rounds Ali was down on all the judge's cards. Some seasoned sports writers regard Muhammad's fifteenth and final round, in which he came from behind to steal the fight as one of his greatest achievements.
Using "1977" as a basis, Los Angeles sculptor Michael Kalish recently created a 3-dimensional image of Muhammad Ali made up of 1,300 speed bags, five miles of stainless steel cables and two miles of aluminum tubing. Artist Shepard Fairey, who became a national figure when his portrait of Barack Obama was featured on the cover of TIME magazine, has also used Brennan's image as a starting point for portraying Ali. Clearly, this image of is on its way to becoming an icon that can rank with the best known portraits of Andy Warhol.
"Age is whatever you think it is" Muhammad Ali once said, "You are as old as you think you are." In Michael Brennan's amazing "1977" Ali himself lives forever, immortalized in all his grandeur and dignity. The Artworks edition of Brennan's photo offers museums and collectors a once in a lifetime chance to possess the greatest image of Ali ever created, published with the most advanced technology available.
Five special new editions were published in connection with the "1977″ production.  Each of the following images were produced in two sizes, both from editions of only 10 examples.  Muhammad Ali has signed half of these editions.  In other words, only FIVE of each print has Muhammad Ali's signature.
Don't wait!  To reserve your copy — email us.

"EVERLAST" 32 x 42″ Archival Fine Art Pigment Print, edition of 10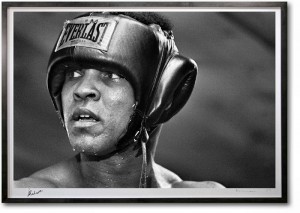 "SHADOW BOXING 1″ 32 x 42″ Archival Fine Art Pigment Print, edition of 10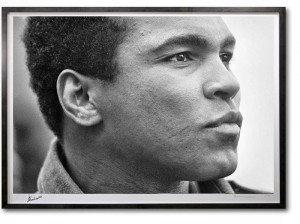 "ALI PORTRAIT PROFILE" 32 x 42″ Archival Fine Art Pigment Print, edition of 10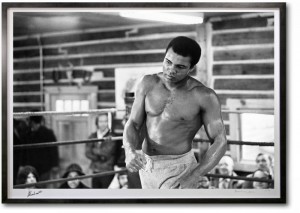 "SHADOW BOXING #2″ 32 x 42″ Archival Fine Art Pigment Print, edition of 10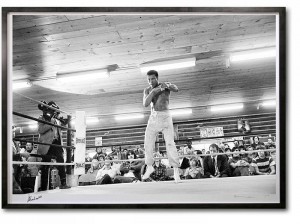 "FIST WRAPPING" 32 x 42″ Archival Fine Art Pigment Print, edition of 10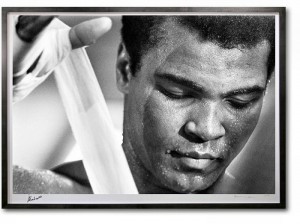 "SUPERHERO" 12 3/4 x 26″ Archival Fine Art Pigment Print, edition of 10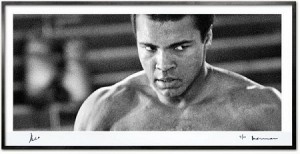 For More Information:
Christopher Forney, Owner, Artworks Gallery – info@artworksgallery.com
Tel: (626) 229-0700  Fax: (626) 229-0715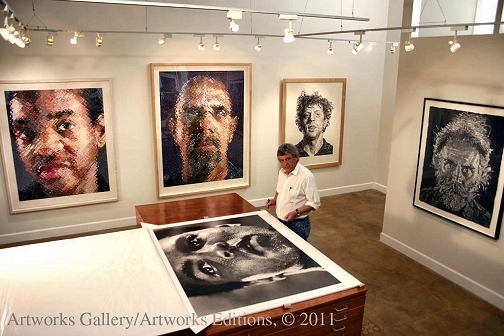 The "1977″ piece has been featured this year in a March edition of The Star: